TRAIN WITH ME!
PRIVATE LESSONS
Private lessons are fun and very helpfull. I offer private nunchaku training through online sessions. This can be with zoom or other services. The private lessons are scheduled on WEDNESDAY & THURSDAY.
During the private lessons I will teach:
- Nunchaku freestyle moves. Basic or advanced.
- Musical forms nunchaku tricks. Basic or advanced.
- How to be a better competitor
- WNA Kumite tricks and tips
- WNA Kata tricks and tips
Offcourse it's possible that you want to ask questions or have sessions that are completely adjusted to your needs.
HOW TO REGISTER?
If you want a private lessons please send me a direct message through Instagram of facebook messenger.
We can pick a date and time according to the schedule. The registration is complete when the payment is complete.
The schedule will be updated as soon as the registration is completed.
If the schedule says OPEN it means that spot is still available. If it says BOOKED it means it's not available.
HOW TO PAY?
The private lessons are €15,- per session. Payment can be done through PayPal.
Dutch participants can also use the Tikkie system.
Once the date is set you will get a payment request.
Once the payment is complete the registration is complete.
CANCELING
A lesson can be canceld 1 day before. If the cancelation is on the trainingday itself then the training must be payed.
SCHEDULE
| Wednesday March 31th | Thursday April 1st | Wednesday April 7th | Thursday April 8th |
| --- | --- | --- | --- |
| 19.00 - 19.30 BOOKED TD2 | 19.00 - 19.30 No class | 19.00 - 19.30 BOOKED TD3 | 19.00 - 19.30 No class |
| - | 19.30 - 20.00 No class | - | 19.30 - 20.00 No class |
| - | 20.00 - 20.30 No class | - | 20.00 - 20.30 No class |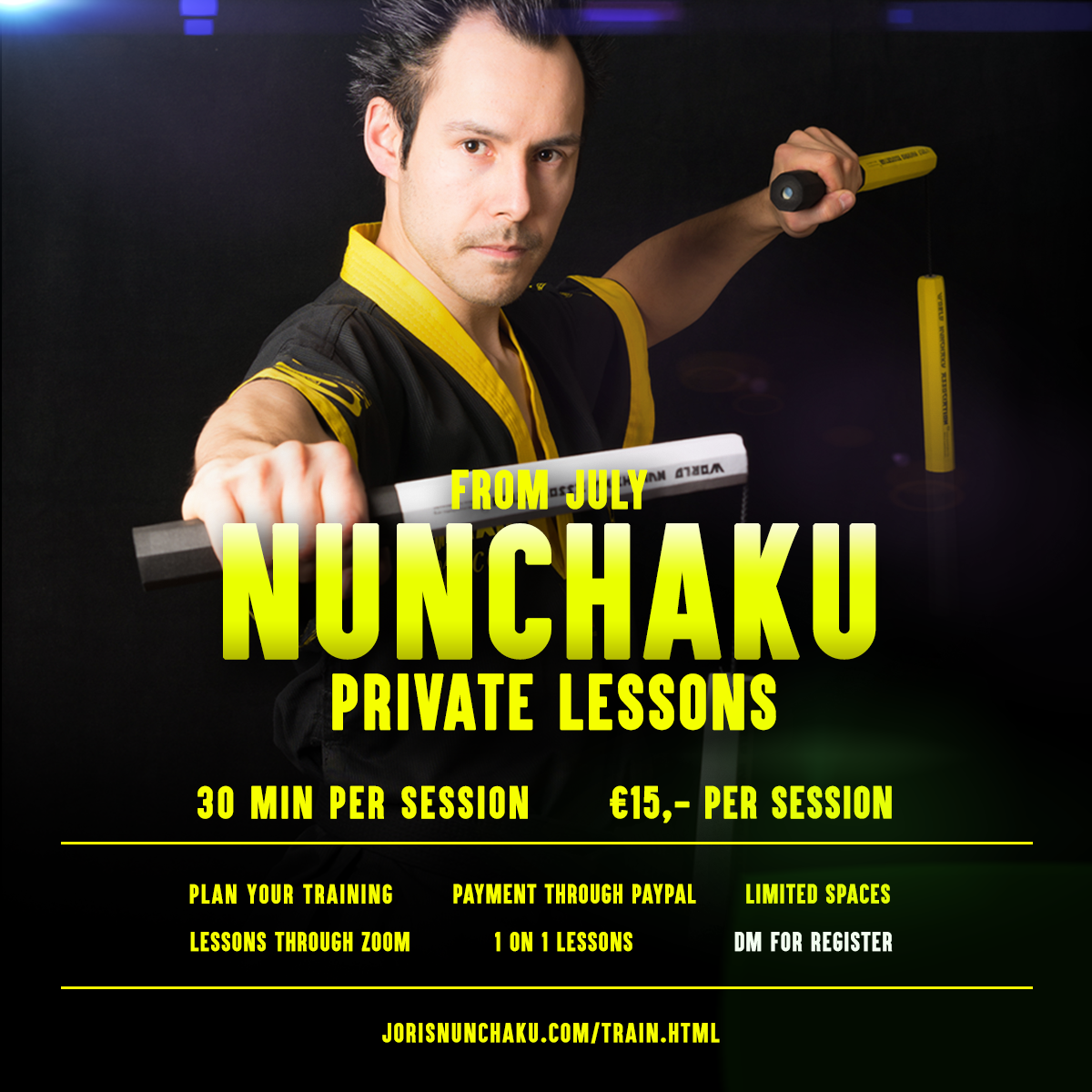 TUTORIAL 1. Holding the nunchaku
TUTORIAL 2. Up & down strike
TUTORIAL 3. L Strike
TUTORIAL 4. X Strike
TUTORIAL 5. Upward figure 8
TUTORIAL 6. Downward figure 8
TUTORIAL 7. Lateral figure 8
TUTORIAL 8. Handroll 1
TUTORIAL 9. Handroll 2
TUTORIAL 10. Handroll 3