NEWS
28th July 2021
Final forms X Y & Z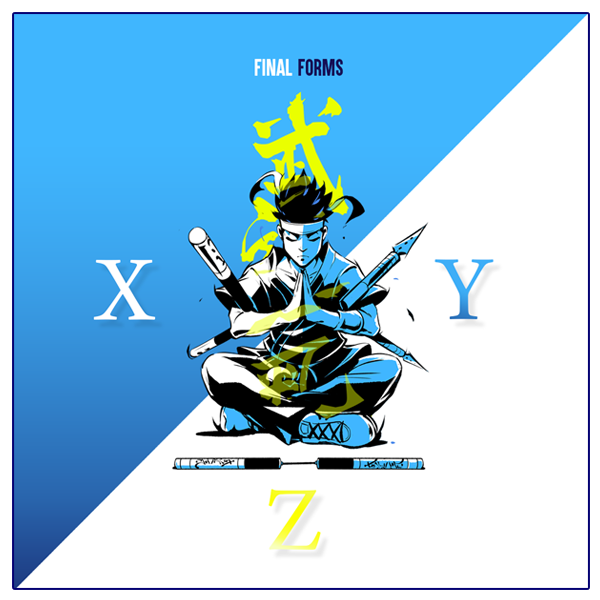 My new forms X, Y & Z are almost ready! I tried to give each form its own movements so that they are all as unique as possible!
I can not wait to perform with these 3 new routines at tournaments and demonstrations. See you all soon!
21st september
2020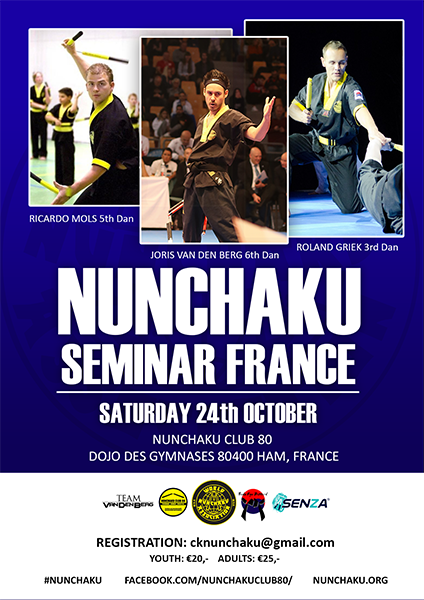 7th of December
Enfusion Kickbox Gala 2019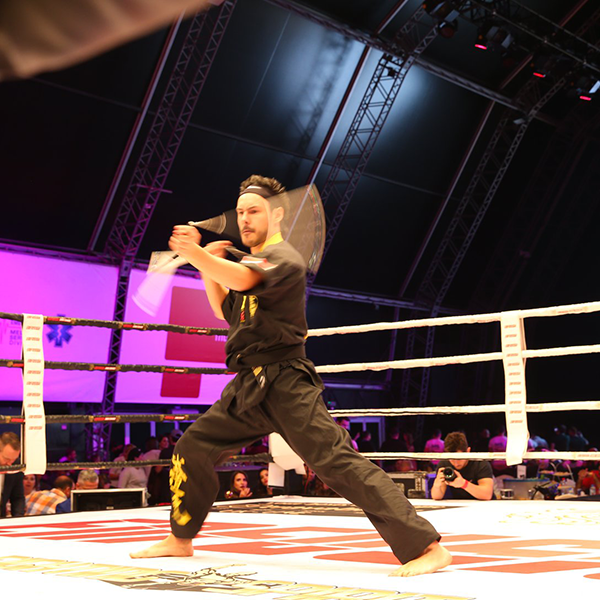 I performed in Abu Dhabi at the Enfusion Kickbox Gala finals. What a great event to perform on one of the biggest stages! Both performances went great and I look back with great pride! Hopefully next year again.
15th of May
Demonstration at Zuidas Business Boxing Event 2019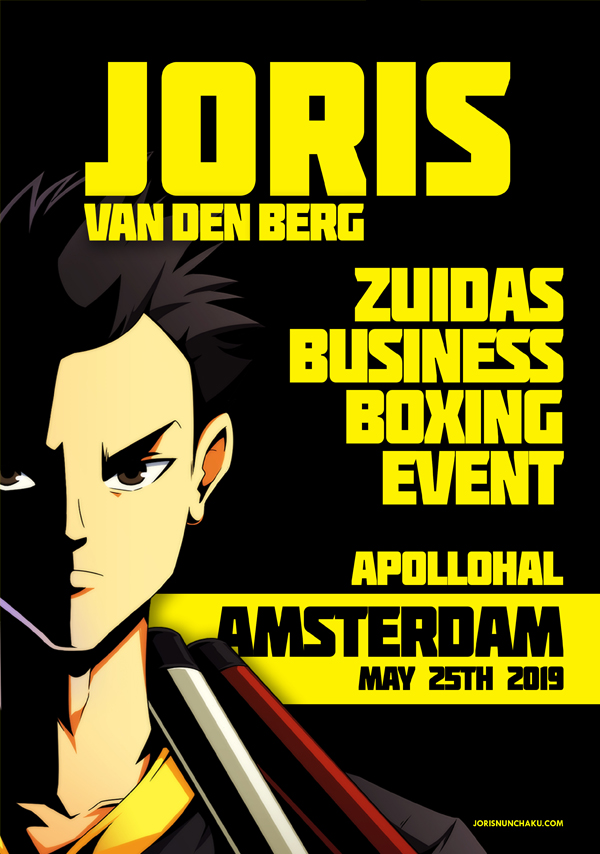 On the 25th of May i will perform my new routine as the Opening at the Zuidas Business Boxing event! Really looking forward too be performing again after recovery from injury!
12th of May
Seminar Tang Soo Do Schoonhoven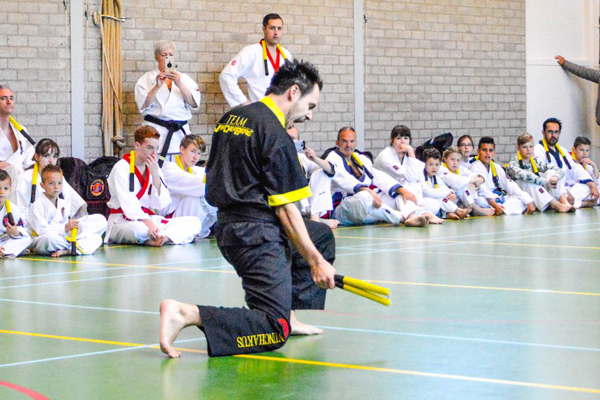 On saturyday 11th of May we did a great seminar at Vereniging Tang Soo Do in Schoonhoven. Over 40 people where training the basics of the nunchakudo sport! A great group with a great atmosphere!
10th of February
All events of 2019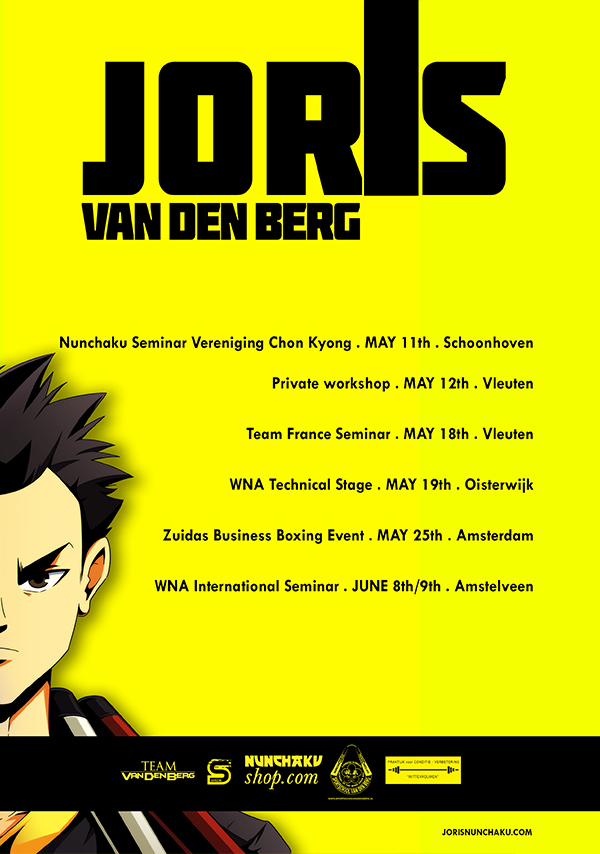 5th of January
2019 plannend!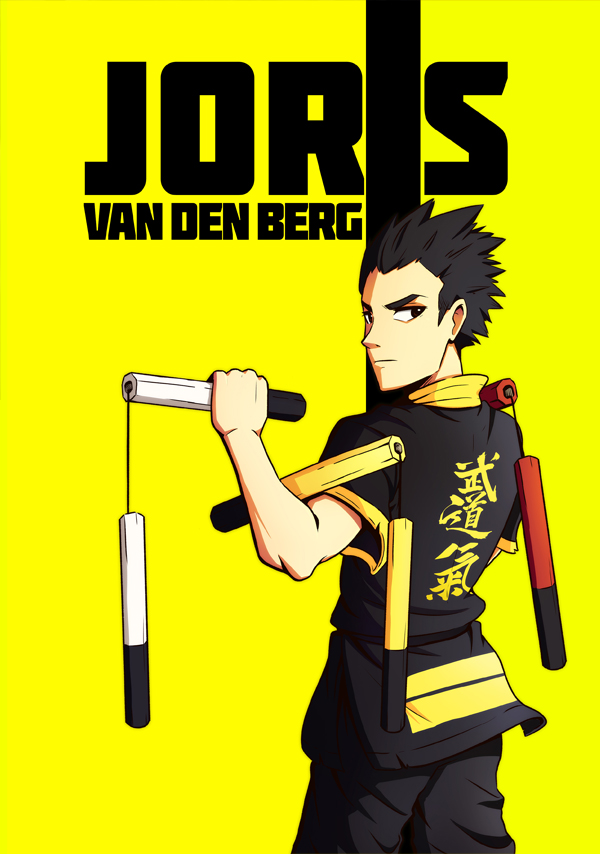 The tournament of the year
The events for 2018 are already plannend and its going to be a blast. A lot of seminars are scheduled and its looking really good.
See all there at the demonstrations or seminars! 10:18 21-9-2020
22th of November
EUROPEAN CHAMPIONSHIP WAKO 2018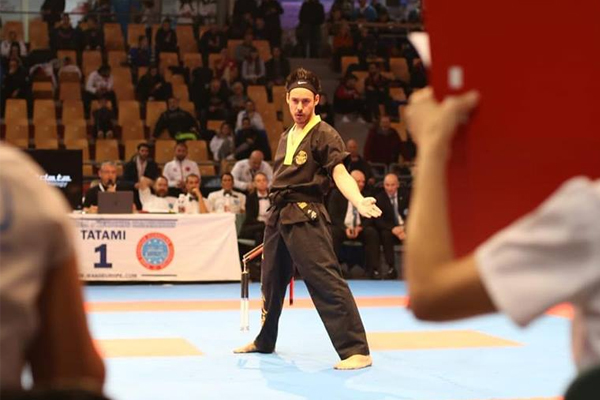 The tournament of the year
After a year of training and preparing it was finally time to test everything during the European Championship WAKO in Maribor Slovenia. The entire year 2018 went great for Joris with only gold as results in every competition. It would be a great ending of the year to achieve the European title in musical forms weapons. Joris preparation was as strong as ever as the training with all the trainers went great. It was time.
Gameday
On Thursday 22nd of November it was game time. The other competitors looked good. It would be a hard battle for the title. In total there where 4 competitors. During the livedraw the order of appearance was as followed: Denis Gavrilov (Russia) with the Kama, Philip Ahayenko with nunchaku's (Belarus), Andras Schersing (Hungary) with the katana. Joris was the last competitor during the game which can be an advantage for the Dutchman. All competitors where great but it was clear that the title would be a battle between Netherlands and Russia.

A good strategy
Denis Gavrilov made a small mistake in the opening of his form which gave him 9.7 with all 5 judges. Belarus and Hungary did well but could not beat the score of the man from Russia. The time had come for Joris to make his move. Because of the small mistake Joris could think of a clear strategy. Playing it save and not using the risky moves. The form went good and every move fell in the right place. After the smoke cleared the room and the numbers of the judges where shown it was clear that Joris got the win! 9.9, 9.9, 9.8, 9.9, 9.7. The first WAKO European title in Musical forms was a fact.
"I want to thank everyone for this accomplishment. This was one of the hardest mental competitions I ever had. I want to congratulate also all my fellow competitors in the division. Much respect!"
Joris van den Berg
Text: Sven Wunderink
29th of September
FLANDERS OPEN 2018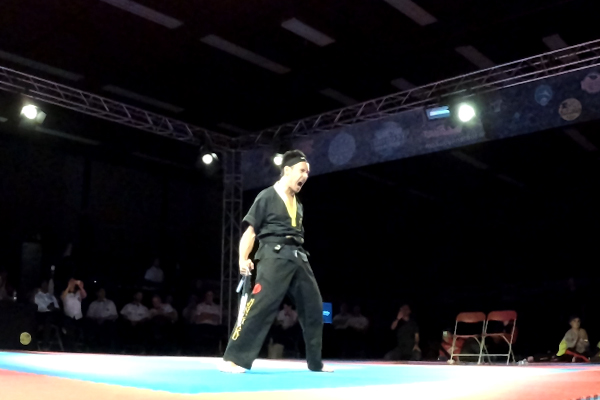 Beveren, Belgium. The Flanders Open 2018 was a great preparation for the WAKO European championship in november. Allthougth the competition didnt had many competitors it was good to have this as a great warm-up for the big one. The nigthshow demo went even better. Now everything is settled down for Slovenia. Let's get that European cup!
8th of April
GENEVE OPEN 2018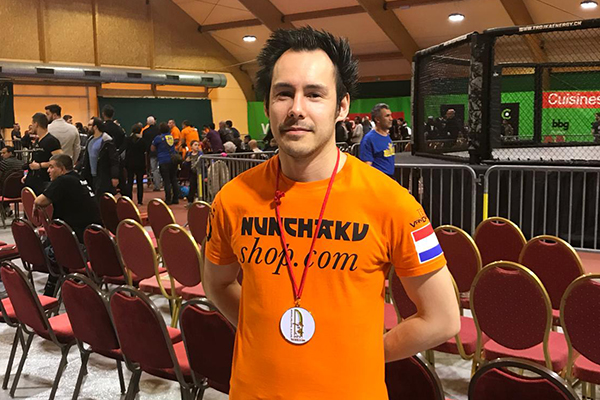 Geneve, Switserland. On 7th of April I had the oppertunity to perform and compete at the Geneve Open in Switserland. A great preparation for the European Championship later in november. With a good performance and not that much risk I managed to get the Gold. Everything for the European looks good so far! Let's keep working! I would like to thank Milco Lambrecht of the World Nunchaku Association for giving me the chance to perform here!
25th of March
YOKOSO DUTCH OPEN 2018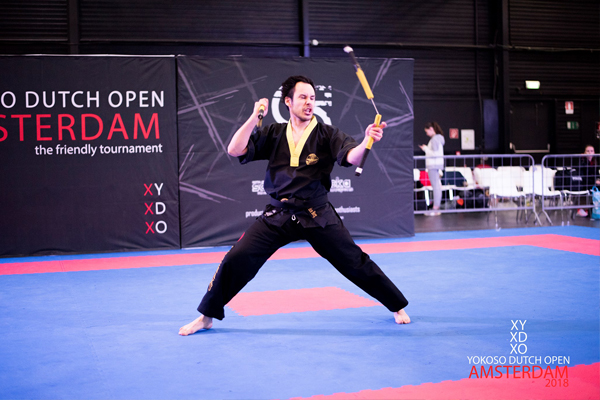 Zaandam, Holland. On saturday 24th of March I competed at the first tournament of the year at the Yokoso Dutch Open in Zaandam. It was an exciting tournament where I participated in four different categories. After a long day I manage to get three times Gold out of the four categories! A good start of the year! Now to prepare for the Geneve Open in April! I want to thank everyone for the great support and cheering during the tournament!
17th of September
FLANDERS OPEN 2017
Beveren, Beglium - Together with Stefano Scandola, Pamela Strazzer and Thysia Rijken we traveled to Beveren for the Flanders Open WAKO. Stefano, Pamela and me competed at the Grand Champion musical forms. My form didnt go as well as i planned but still got the second place. A mistake with the underleg throw didnt went well.. But cant complain! In the evening we did a few demosntration which where great. The audience at the Flanders Open was really good and looking back it was a great experience! Shootout to all people from WAKO Nederland and all the people who came to support all the Dutch players! 2017 was a great year with alot of things learned. Now to put all together fort the next season. See you in 2018!
17th of September
UNITY GAMES 2017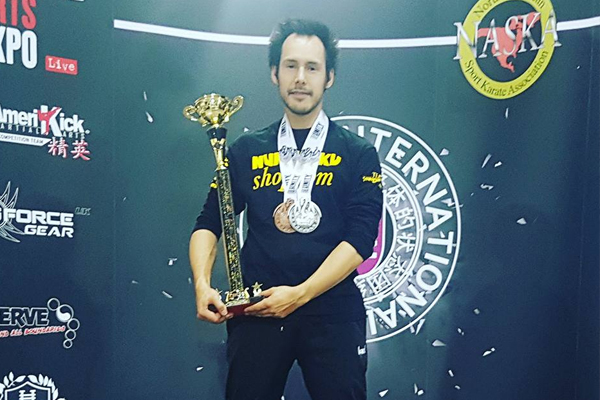 New wark, England – Team Scka traveld to England fort he 5th edition of the Unity games 2017. Organised by Jeff and Heather Bellamy this one of the best tournaments in Europe. I competed in the Musical forms weapons, creative forms weapons and Trick Battle weapons senior divisions. After the entire day of competing I won 3rd place at creative forms, 2nd place at musical forms and defended my Trick battle weapons title fort he 2nd time! All our team members won several prices in the diffent divisions! Shoot out to Jack Wade, Giulia Bazza and Martina Bazzan for taking of me getting some stuff prepared for the tournaments! You guys are great! I want to thank all members of our team: Stefano Scandola for being a great captain. Pamela Strazzer, Ton and Xander van Loon fort he great weekend! Next and final stop is Flanders open 8th of October Belgium.
17th of July
US OPEN 2017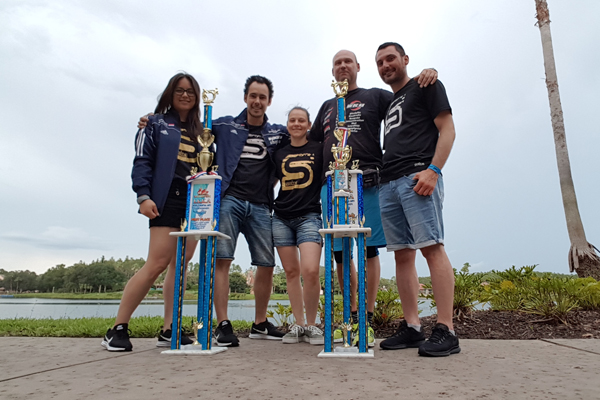 The US Open was a very good experience! Allthough it didn't go as I planned it to be I still had a great time. All the people from Team Scka where amazing and I also want to congratulate Pamela Strazzer for getting two times 1st place at her divisions!! Wauw amazing. I will be preparing again for the next tournament. Which will be Unity Games 2017 on 17th of september.
16th of April
Freestyle stage 2017
Elk jaar organiseer ik een freestyle stage. Een perfect moment voor alle nunchakuka's die beginnen met freestyle of die al meer ervaring hebben binnen dit onderdeel. Dit jaar zal de freestyle stage plaatsvinden op zondag 14 mei. Ook dit jaar zal er weer een beginnersgroep en gevorderdengroep zijn. Het tijdschema is:
Beginners: 11.45 - 13.45 Gevorderden: 14.00 - 16.00 Wil je meendoen? Stuur een e-mail met je naam, naam van je sportschool en in welke groep je wilt meedoen, naar teamnunchaku@gmail.com. De stage is alleen toegankelijk voor WNA/SNN leden. Op het moment dat de inschrijving binnen zal je een bevestiging ontvangen. Tot 14 mei!
Every year I organise the freestyle seminar. A great way for people who are starting with Nunchaku freestyle or who are already doing tournaments and want to learn more. This year the seminar will take place on sunday 14th of may. There will be a beginnersclass and an advancedclass. The timeschedule will be as followed:
Beginners: 11.45 - 13.45 Advanced: 14.00 - 16.00
Want to join? Send a e-mail with your name, member of which school and which class to teamnunchaku@gmail.com. The seminar can be accessed by WNA/SNN members only. You will get a reply once the registration has been recieved. See you at the seminar!
8th of April
Dutch Open Nunchaku and Yokoso Dutch Open 2017
Saturday 8th of April must have been one of the longest days of this season. Two tournaments on one day, The Open Dutch Nunchaku and the Yokoso Dutch Open in the evening. Had to perform 3 times and it was one hell of a blast. In the end I was excausted but it is all to train and perform well for America and beyond. Also I want to congratulate all my teammates of Team Van den Berg for there excellent performances at the Open Dutch Nunchaku! Especially Mey-lynn Vogel who got her first Dutch National Title in Kata juniors division! 1x Gold, 2x Silver and 2x Bronze for our Team! Well done! Also big shout out to Stefano Scandola, team Scka and everyone from Dojo Yokoso for alle the preparation for the Seminar and the Yokoso Open tournament. This was my 3rd time going and it was again a great tournament!! Now time to rest and get ready for the last events the following months.
26th of march
Festival des Arts Martiaux
How awesome! After 4 years I got back in Paris for the Festival des Arts Martiaux event. This time to support Ricardo de Jong for his performance during the 7th Bruce Lee Challenge. Also Stefano Scandola captain of the Scka team will perform at the same time. The performance very well! No drops no mistakes. I am very proud to work with Ricardo and Rene de Jong for this event and that everything went better then expected. For my preparation for the US Open I participated in the 1st edition of the Bushido Gold Cup. A small competition but very good for all the preparations. Next stop Amsterdam Yokoso Open 2017 8th of April.
10th of march
3rd place at IRISH OPEN 2017
The Irish Open is over and I got the 3rd place at my first try creative forms weapons! Musical forms went well but I made one mistake. No matter! Still had a amazing experience! The training with members of Team Paul Mitchell was very entertaining and interesting! Now the focus will go for the preparations for the US OPEN. I want to thank all the sponsors and all members of team scka and WAKO Netherlands for the amazing time in Dublin! Osu! #nunchaku #dublin
2nd of februari
2017 is going to be big
The word is out. Finally the first events of the new year are published! Its going to be very exciting. First we shall go to Belgium to give a seminar in musical forms. Then all the focus will go to Ireland where I will be playing in Dublin during the Irish Open. My return to the Irish since 2015. After the Irish the focus will go to America. For the US open I shall prepare as never before. There will be alot of demontrations planned as preparation because I really want to do good during the US OPEN and maybe there will be another tournament in America. After America I will take a small break to get prepared for the World Championship WAKO in Hungeria. I really want that World Title because then I will have all 3 World titles of all the sport-federations I am in! And further more I got a a new project going on with SCKA weapons! All my thanks will go out to my great team that has been gathered and all the people who support me during this great adventure we call 2017!
Follow me on instagram, facebook and youtube to be the first to know! #nunchaku
10th of December
5th dan nunchaku-do
Besides the training in freestyle and musicals forms I have trained the past years for my 5th dan. The exame proved to be more exhausting then I imagened. Luckely all the kata's and forms went very well and I past for the 5th dan nunchaku-do according to the rules of the World Nunchaku Associations. Many thanks goes out to Luke Boudewijns, Hannah Jalink, Thysia Rijken, Peter van Gils and Rene de Jong for helping me during the training! Osu!
18th of September
With team SCKA at the UNITY GAMES 2016
At the Unity Games 2016 I was honoured to compete and perform in NEWARK England! Representing Team Scka, I won the bronze medal at the musical forms and 1st place at my very first Hyper tricking battle! In the nightshow I performed my smaller musical form with the 3 nunchakus. It was a really awesome tournament with great people. Untill next year! Osu!
2nd of July
Seminar in France 2016
On the 2nd of July I traveled with Thysia Rijken to Ham in France to give a nunchaku seminar at Nunchakuclub 80 of Christophe Koza. The seminar went extremely well. For 5 hours we trained kumite and freestyle according to the WNA rules. Hopefully untill next year!
Yokoso Open 2016
Back from the Yokoso Dutch Open 2016! Winning the musical form weapons for the first time during this tournament. Shout out to my oppedents for giving me a very good compitition. Also I won and defended the Grand Champion forms for the 2nd time and winning the special made bostaff of SCKA Weapons!
14th of April
2nd setlist and Freestyle stage in June
For the following months I have four major activities. Next tournament will be the yokoso dutch open in Amstelveen. Goign to train for it this Saturday. I will be doing a Opening demonstration with Stefano Scandola and Soraya Wahjudi for this event. After that I have 3 great seminars going on! Stay tuned!
25th of March
WORLD CHAMPIONSHIP NIA 2016
Finally after two years, I could perform during the NIA World Championship in Vevey. In 2014 got the second place against one of my greatest rivals Pierre Mercier from France. This year we went to Vevey with a great team. Probebly the greatest team in years from Holland. In the end we accomplished 5 golden, 1 silver and 2 bronze places. 4 of the 5 golden victories was for the freestyle division. Holland got first place in the juniors mixt, juniors till 17 years, women division and the seniors division. In the final of the seniors it was again close between me and Pierre Mercier. We both did not drop during the performance. The level was as high as it can be and it was a very exciting final. In the end the judges decided that I got the World Championship title of the NIA. I want to thank the entire Dutch team and my sponsors and trainers who helped me through the preparation for the tournament. I want to acknowlegde Pierre Mercier as one of the greatest sportsmen I have ever met and for giving me a goal to work for. Untill we meet again!
30th November
BRONZE MEDAIL AT WAKO WORLD CHAMPIONSHIPS 2015
During the Wako Worldchampionship I got the bronze medail in the musical form weaposn division.
My first year was a succesfull year in the WAKO federation. Als during this tournament I learned alot and I will bring it all together for the next tournament! Osu!